Tennis Camp for Adults: Discover the Tips, Tricks and Strategies to Excel on the Court
Thanks to the latest educational tools, tennis is now accessible to everyone and at any age, regardless of or their fitness level. Everyone will be able to find pleasure with a Tennis that is adapted to them.
In addition, the latest studies show us that it is excellent for your health!
Play for all ages and all levels!
For those who already play and who started younger, tennis remains the sport of a practicable life of 7 at 77!
For those who want to start, today there is a pedagogy adopted with training grounds. different sizes as well as balls that evolve according to learning.
Thus, a beginner adult can have fun and take pleasure from the first sessions unlike the tennis of yesteryear which could be daunting during the learning period!
Our adult courses with groups of different levels will take care of you whether you are an adult beginner or a confirmed and experienced adult.
Tennis and Health: the ultimate!
1 - Live 10 more years
This is the revelation of recent years!
A Danish study from 2018 proved on the observation of 9000 people for 25 years that the practice of tennis allows an extension of the lifespan of 10 years!
Tennis thus ranks ahead of all other sports in terms of positive impact on health. 47% mortality risk.
2 - Build your brain
Eyes riveted on the ball, we are always on the alert, focused. We move without looking at the ground, while kicking the ball, which works on coordination. We thus learn to better evaluate our movement in space. The practice also requires reflection: you have to know how to observe, identify the opponent's tics or weaknesses to score points faster. Finally, we learn to dose the energy to provide for each game, a set that can last for hours
3 - Protect your heart
Practicing a racket sport reduces the risk of mortality from cardiovascular origin 56% (41% for swimming and 36% for aerobics). This is revealed by a study published in the British journal of Sports Medicine in 2016, performed on over 80,000 adults. In fact, in the field, we alternate moderate efforts and more intense but brief periods, such as rushing to the net for a smash. The heart does not remain long in a situation of high demand. This cardiac training contributes, according to the French tennis federation, to improve the quality of the artery walls. Hence an action prevention against strokes.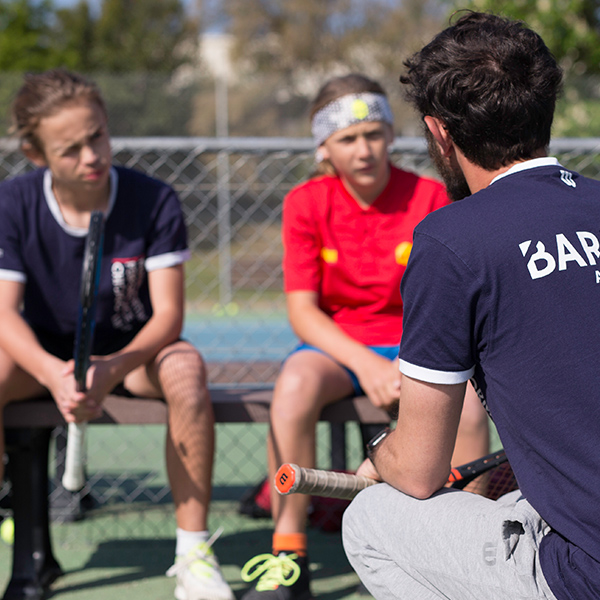 4 - Make the whole body work
In tennis, we run after the ball, we come back to the bottom of the court between each point...Result, the legs work non-stop, especially the glutes, thighs and calves. With each blow, the arm and the shoulder on the racket side are solicited with a large amplitude. We gain mobility. As for the abs and the back, they are mobilized to master the movement in rotation with great stability. As a bonus, we table on 200 to 350 kg calories eliminated in 30 minutes!
5 - Heal yourself
Nothing could be simpler to reduce the size of the court, to choose more or less large rackets, more or less fast bullets, even balloons. This adaptability makes tennis accessible people suffering from hypertension, COPD (chronic obstructive pulmonary disease), cancer, depression, obesity... And that's good since sport is recognized as a real medicine!
Internships offered by the Barrere Academy
Multi-activity course