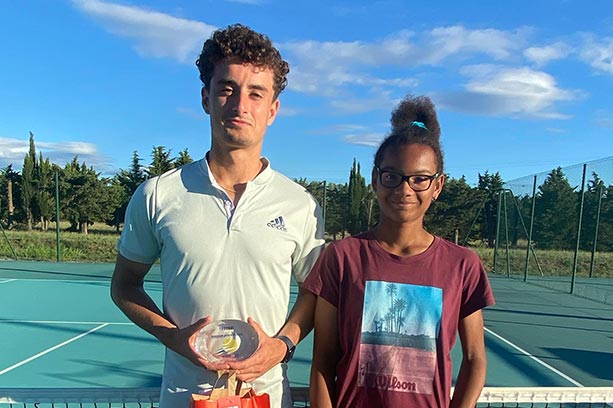 Inside Tennis
Alain Barrère Academy players shine on the courts
The Monteux tournament was the scene of extraordinary performances from the players of the Alain Barrère Academy. Mathieu Derache, ranked 0, achieved a real feat by winning the men's tennis tournament, while Nessa Barithel, ranked 15/2, wowed the spectators with an exceptional performance in the semi-finals, despite losing in the final. p>
Mathieu Derache, who had shown impressive form throughout the tournament, confirmed his talent by reaching the final without conceding a single set. His powerful game and his agility on the court allowed him to dominate his opponents with disconcerting ease. In the final, he showed unwavering determination, winning the title with flying colors thanks to precise shots and a well-crafted strategy.
For her part, Nessa Barithel amazed the spectators by achieving a sensational performance in the semi-finals. Despite being ranked 15/2, she put on an incredible performance by knocking out a 5/6 ranked opponent. His varied game, his ability to read the opponent's game and his steely mind allowed him to surprise and write his name in the annals of the tournament.
In the final, Nessa Barithel showed great combativeness against a formidable opponent. Unfortunately, she bowed out after a tough match. Despite this defeat, his exceptional career and his remarkable level of play were hailed by the spectators and the experts present on site.
These remarkable performances demonstrate the quality of the training provided at the Alain Barrère Academy. Mathieu Derache and Nessa Barithel have demonstrated raw talent, meticulous preparation and an unwavering commitment to achieve such results. Their success also testifies to the dedication and expertise of the academy's coaches, who were able to guide them on the path to excellence.
The Alain Barrère Academy is proud to count among its ranks such promising and determined players. Mathieu Derache and Nessa Barithel are inspiring examples for young players, showing that with hard work, passion and solid training anything is possible.