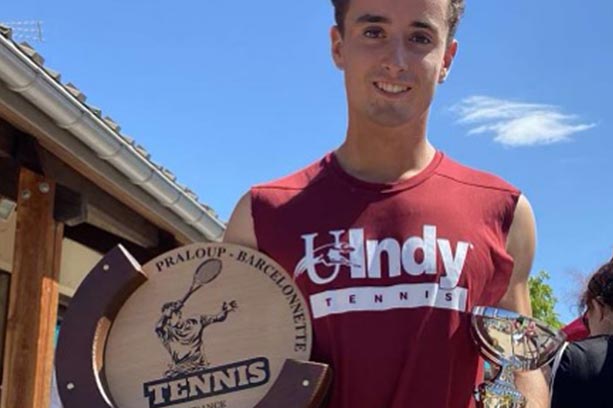 Inside Tennis
Mathieu Derache (0): A Summer Crowned with Success Ends in Beauty with a Trophy in Barcelonnette!
The summer of 2023 will go down in the annals of tennis for Mathieu Derache (0), whose exceptional performances conquered the national courts. This fruitful summer season ended with a resounding triumph, with a performance at -2/6 at Praloup and the ultimate consecration with a trophy at Barcelonnette. As the curtain falls on these memorable victories, Mathieu prepares to enter a new chapter in his career by returning to the United States to begin his second year of university.
The Winning Journey
From the start of the summer, Mathieu Derache showed his determination and his talent on the court. His remarkable performance at -2/6 in Praloup was the icing on the cake of a series of impressive matches. His ability to dominate high-level opponents and maintain consistent excellence has been key to his success. The tennis community has witnessed his powerful game, remarkable agility and well-calculated strategy.
Triumph in Barcelonnette: The Peak of the Season
The highlight of the summer for Mathieu Derache was his victory at the prestigious Barcelonnette tournament. By lifting the trophy, he marked his place as an outstanding player in the tennis arena. His unwavering determination and commitment to constant improvement have been rewarded with this well-deserved title. The applause and praise from his peers, as well as devoted fans, testified to the recognition of his exceptional talent.
Towards New Horizons
After a summer full of successes and triumphs, Mathieu Derache is preparing for a new adventure. His decision to return to the United States to pursue his second year of college marks a crucial step in his pursuit of athletic and academic excellence. The American courts provide fertile ground for the honing of his skills, where he will continue to push the limits of his performance.
As the lights of the summer season slowly fade, Mathieu takes with him the glorious memories of his victories on the court. His legacy as an inspirational and determined player only grows, and the tennis community looks forward to seeing what new achievements he will bring in the future.
In short, the summer of 2023 was synonymous with success, brilliant victories and unforgettable moments for Mathieu Derache. His career in national tournaments has demonstrated his mastery of the game and his commitment to excellence. As he prepares to return across the Atlantic for the next leg of his adventure, fans, friends and tennis enthusiasts are eagerly awaiting his continued rise on the international tennis scene.