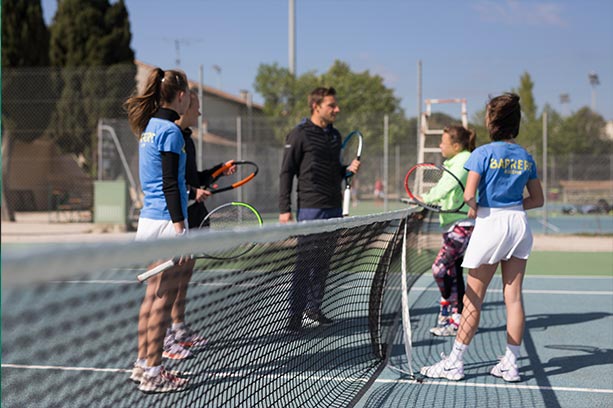 Inside Tennis
The girls of the academy in the spotlight
The school program is over but training continues at the academy! The girls in the spotlight on this session, who are preparing for the summer tour! ☀️
Welcome to the Alain Barrere Tennis Academy, where future champions shine!
We are proud to present an environment dedicated to the excellence and development of women's tennis. Located in the heart of the beautiful landscape of south-eastern France, our academy offers an ideal setting to cultivate talent and enable female tennis players to shine on the court.
With us, the players are at the center of our attention. We firmly believe in their potential and their ability to reach the highest levels of tennis. Our team of qualified and passionate coaches is dedicated to supporting each player on their sporting journey and developing their technical, tactical and mental skills.
At the Alain Barrere Tennis Academy, we offer a complete and personalized program that allows players to fully develop as athletes. Our state-of-the-art facilities include indoor clay courts, hard courts and modern infrastructure to support their progress. Additionally, we focus on physical fitness, mental preparation and game strategy, ensuring our players are ready for any challenge.
Beyond the sporting aspect, we attach great importance to the personal development of each player. We promote the values of integrity, respect and discipline, which are essential in tennis as in life. We aim to develop well-rounded athletes, who will not only be great tennis players, but also inspirational role models for the next generation.
Whether you are a beginner or a confirmed player, the Alain Barrere Tennis Academy is the ideal place to reach your goals and make your tennis dreams come true. Join us for a unique experience, in a caring and stimulating environment, where your passion for tennis will be nurtured and where you can flourish as a player and as a person. In addition, benefit from 2 days of immersion offered.
Contact us today for more information about our programs, facilities and team. We will be delighted to welcome you to the Alain Barrere Tennis Academy, where players become champions!
Take a look of the video